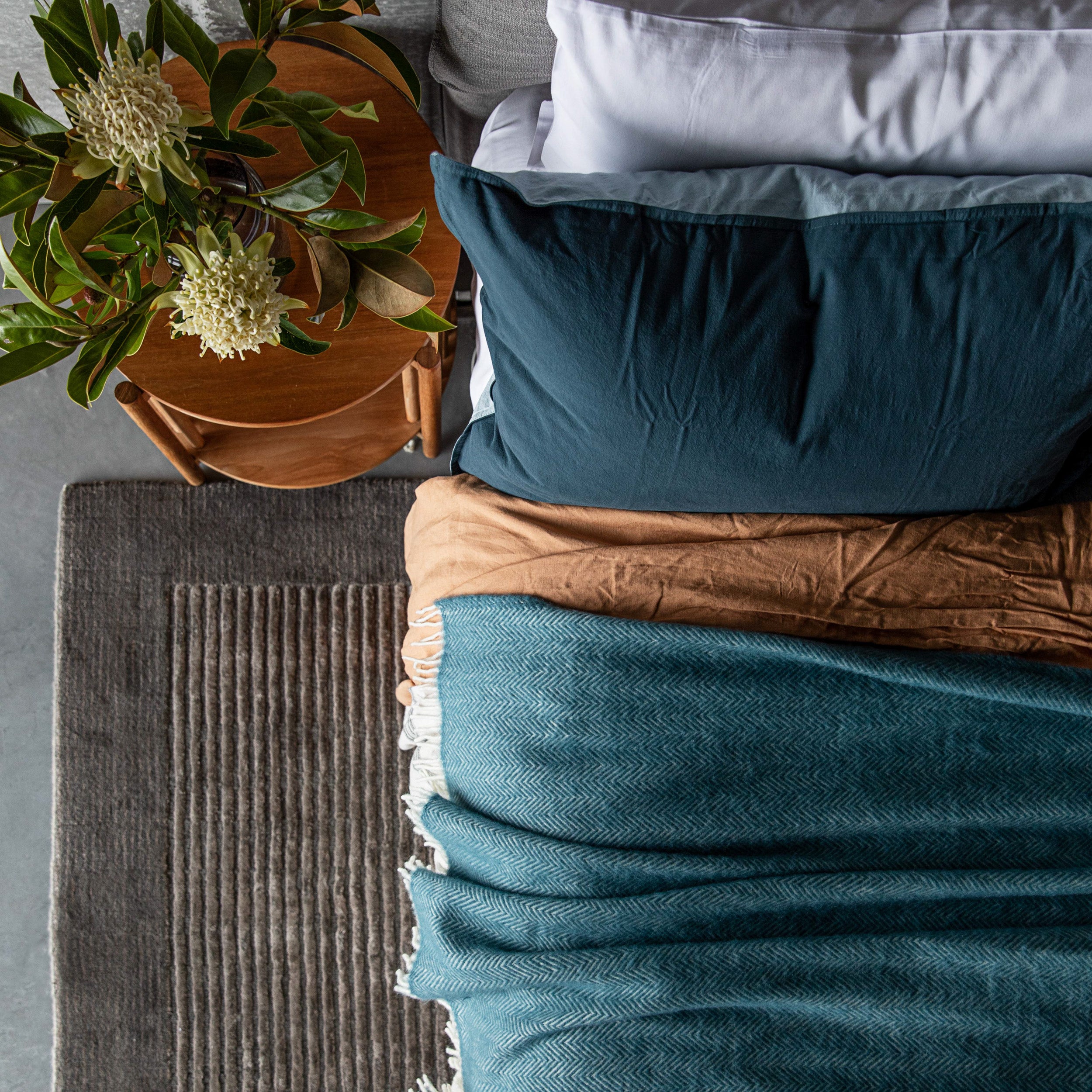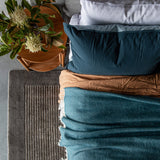 Herringbone Throw in Indian Teal
Description

We can't help but feel a bit nautical looking at this lovely blue Herringbone Throw that's as visually appealing as it is soft. We use a special process to create something extra luxurious, spinning superfine Australian Merino wool into single-ply yarn and then twisting it into 4-ply yarn to produce a silky smooth finish. These throws feature a timeless herringbone design with a fringed edge that adds texture, flair and presence.

Frankland Herringbone Throw in Indian Teal
100% Merino Wool
18 Micron Merino Wool
Edge: Fringe

Size: 120 x 190 cm

Approximate weight: 900grams

Proudly designed and made in Tasmania, Australia

ABOUT THE COLLECTION

Developed in collaboration with Australian design duo bernabeifreeman, Retreat invites you to unwind, relax and find tranquillity. The collection marries a range of beautiful on-trend colours with timeless designs inspired by the spaces and places that fill your cup, from the city to the country to the breathtaking outdoor scenery of Australia.

WHAT'S SO SPECIAL ABOUT MERINO WOOL?

Merino wool comes from the fleece of Merino sheep, and it boasts some amazing properties. It is soft yet durable, fire resistant, temperature regulating, moisture wicking and odour resistant. 

A BIT ABOUT MICRONS

The smaller the micron count, the finer the wool fibre will be. Wool typically falls in a range of 18–40 microns. These throws are made with our opulent feeling 18 micron Merino wool, making them buttery soft to the touch and the perfect addition to any home décor.

Due to the nature of our products there may be some slight variation in sizing. 
Easy Care

From time to time, your delicate product may need refreshing. We suggest airing outside, rather than washing. A steamy bathroom or a frosty night will also invigorate and refresh fibres. 

For any spills or mishaps, we recommend spot cleaning. You can find more details here.

You may choose to dry clean and if so, we recommend discussing the care instructions with your chosen drycleaner before leaving your product.

We do not recommend machine washing your product, even if your machine has a delicate or hand wash cycle. 
Free shipping on orders over $149
Herringbone Throw in Indian Teal
FAQ
How soft is your merino wool?

The industry standard is to measure wool by microns. The lower the micron count, the finer, and softer, the wool. We use 18-micron merino wool for our super soft throws, making them buttery soft to the touch and the perfect addition to any home decor.
Will wool pill?

Pilling is a natural part of the lifecycle of wool. Abrasion and friction are the most likely causes of pilling, but may be unavoidable over the life cycle of your natural fibre product.

The good news is that pilling is easily remedied. Simply remove the pills carefully, by hand or with a comb, for a good as new appearance.
Where are your products made?

We make everything right here at our mill in Launceston, Tasmania. From weaving, right through to cutting and finishing, our products don't leave the mill until they're on their way to you.
Get in touch

Have further questions? Don't hesitate to get in contact with us by filling in the form here.